Looking northeast to The Well, image by Forum contributor Red Mars
What will end up as the community's tallest building is already the most prominent, the 36-storey, Hariri Pontarini Architects-designed office tower being built for developers Allied REIT and RioCan REIT. When we last checked in on the enormous construction site at the start of August, forming had reached its 23rd floor, while cladding installation had progressed above the podium to reveal a distinctive set of faux X-shape cross-braces. Several more purely decorative, non-structural Xs have joined since.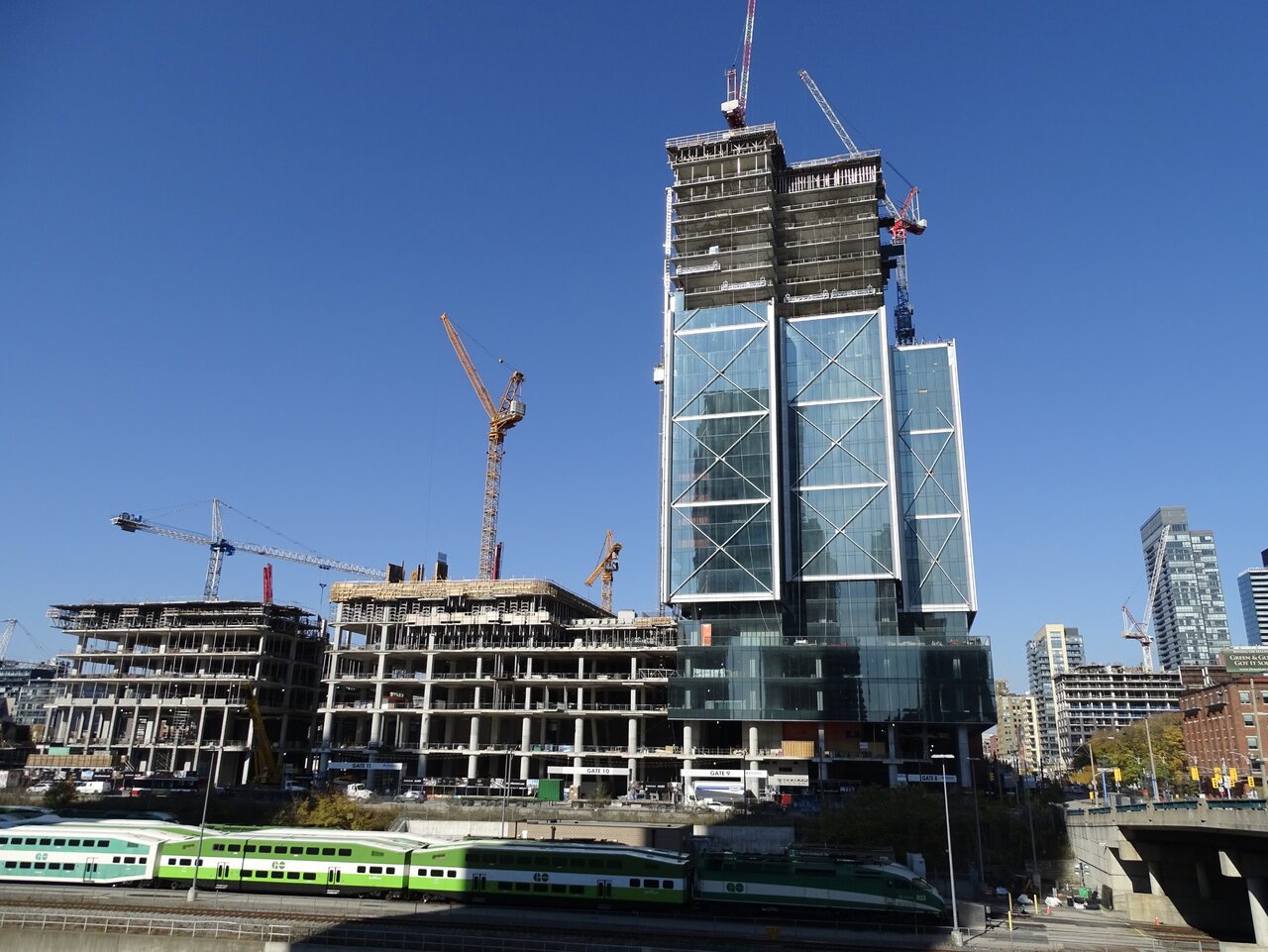 Looking north to The Well, image by Forum contributor Red Mars
Now at 28 storeys, forming has reached where another step-back will occur along the tower's tiered east elevation. There are still eight more offices floors to go, plus mechanical penthouse levels, at a reduced footprint. They will bring the tower to a final height of 174 metres in the coming months.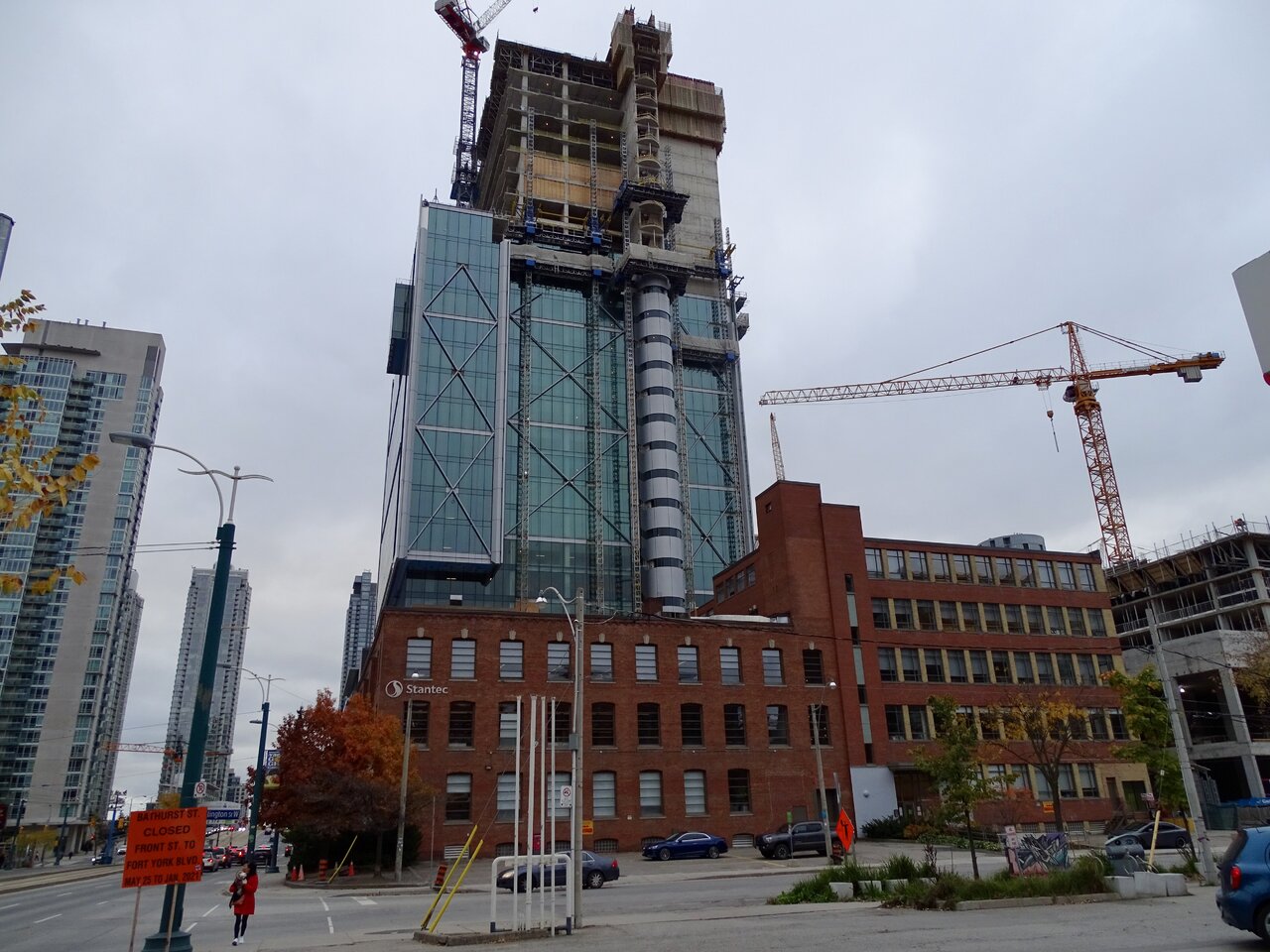 Looking south to office tower at The Well, image by Forum contributor Red Mars
West of the rising office tower, the remainder of the site's frontage along Front Street will be home to a trio of architectsAlliance-designed residential towers. First up is a 46-storey RioCan Living rental tower immediately west of the office tower, along with 38 and 22-storey Tridel condo towers further west. The 46-storey rental and the 38-storey condo tower are now both rising at a similar pace, with the first tower floors now sprouting from their side-by-side podiums, each now standing eight storeys tall. At the site's southwest corner, the 22-storey Tridel condo tower was having its ground floor formed at the time of our last update: its podium is now taking shape, with recent photos showing the first slab forms being positioned for its fourth floor.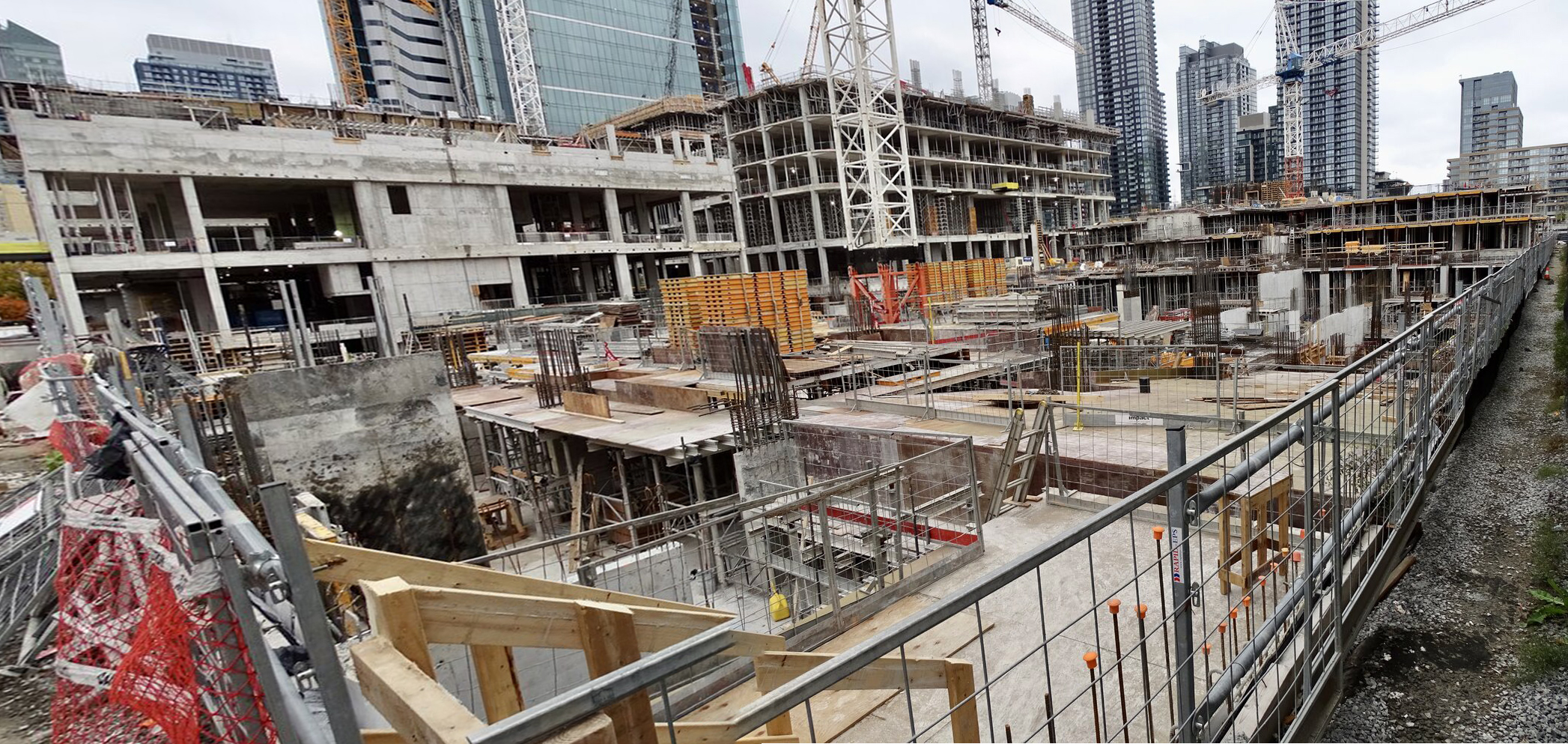 Looking southwest across site of The Well, image by Forum contributor Red Mars
Along the site's Wellington Street West frontage, three additional Wallman Architects-designed residential buildings will include a pair of RioCan Living 16-storey rentals and a 14-storey Tridel condo tower. When we last checked in, the eastern two rental buildings had just risen above street level, while the condo to the west was having the last of its underground parking levels formed.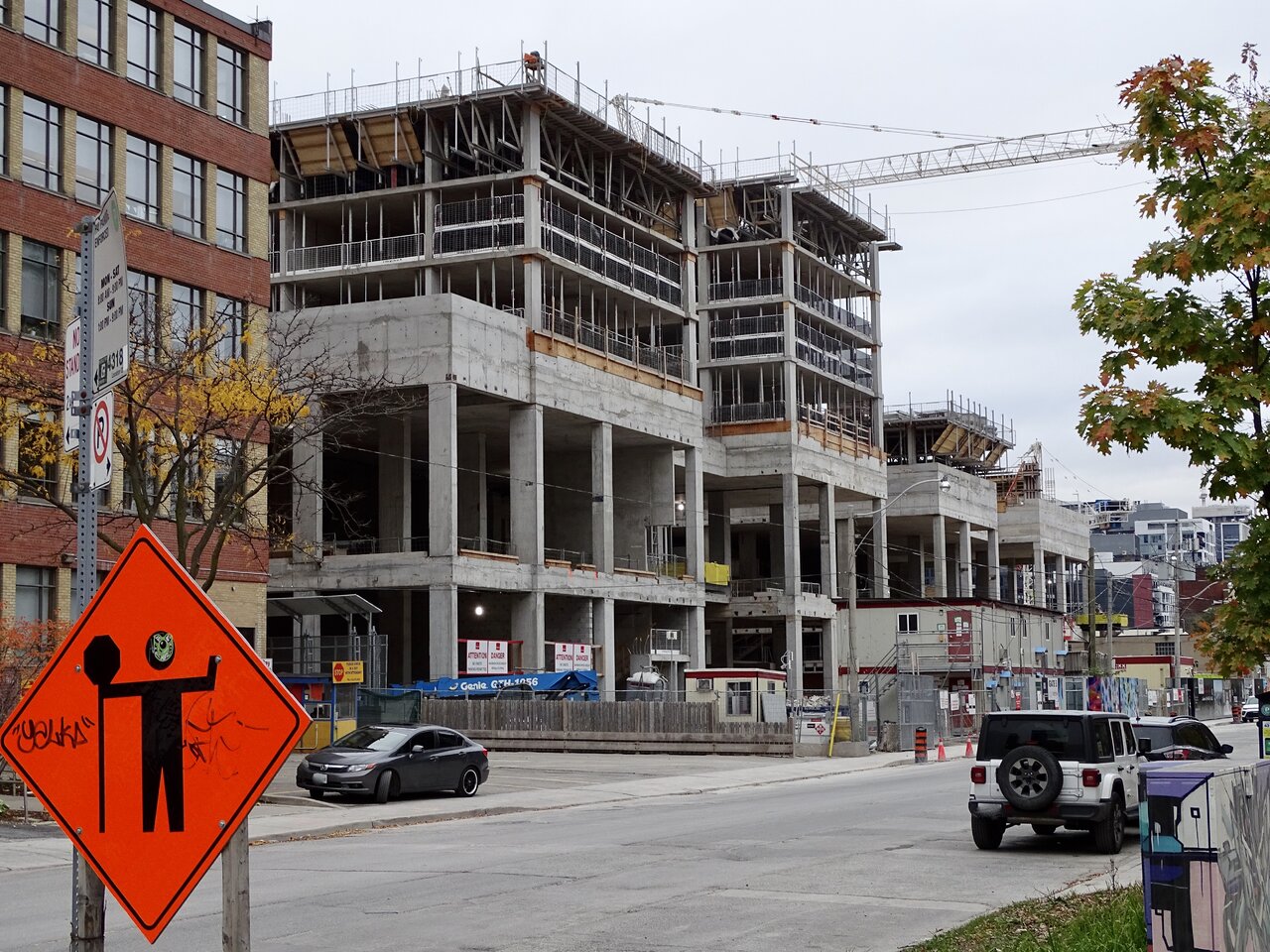 Looking west along Wellington Street at The Well, image by Forum contributor Red Mars
The easternmost rental building has since advanced the most, its eighth floor now being formed while the central building has reached the fourth floor. The condo to the west is now having its ground floor formed. Between the Front Street towers and the Wellington Street mid-rises, a BDP-designed multi-level retail galleria is now beginning to carve through the site, where restaurants and retail will one day create a destination for residents and the wider population to enjoy.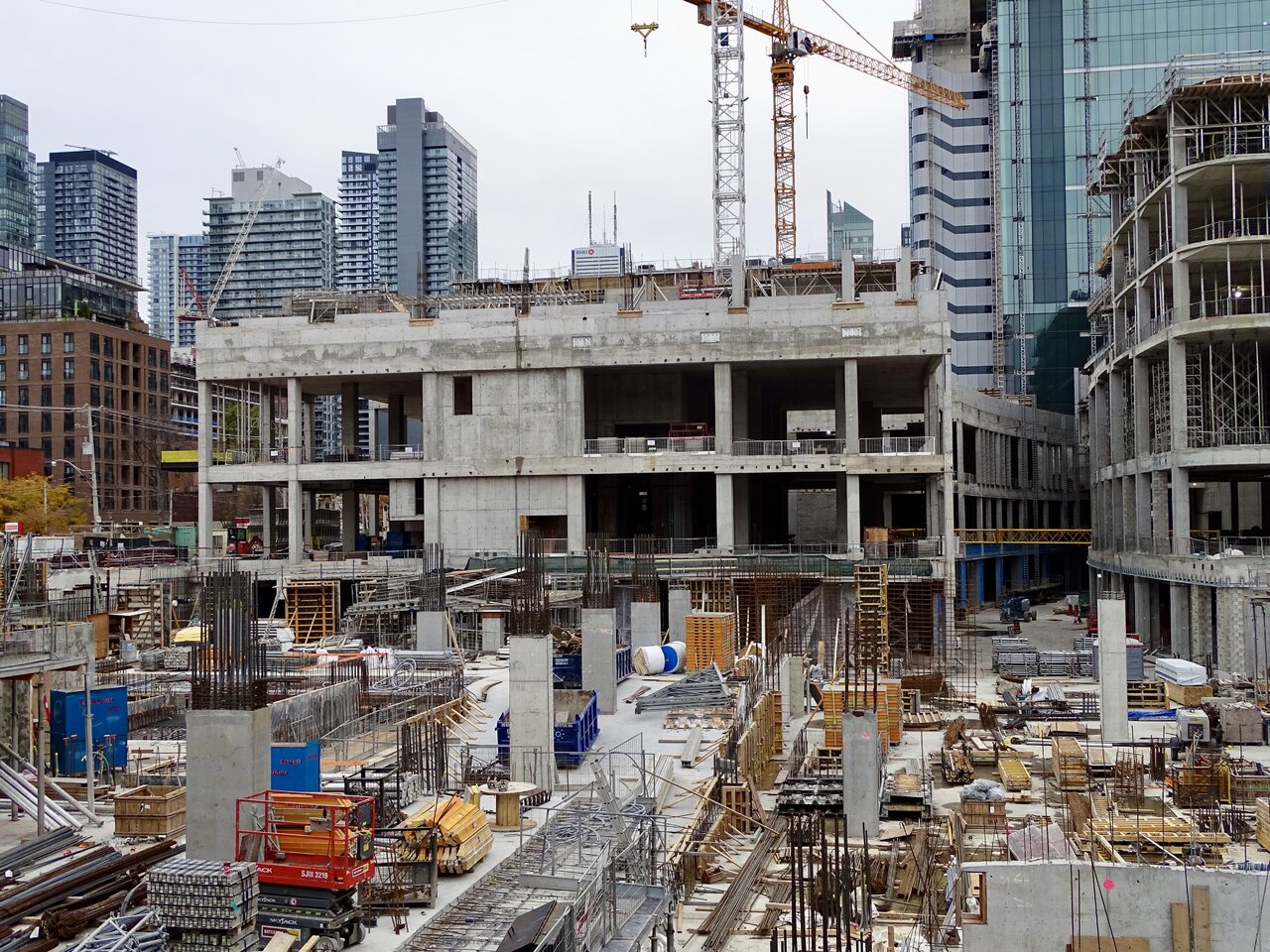 Looking east across site of The Well, image by Forum contributor Red Mars
Source: Urban Toronto